Anheuser-Busch Makes Changes to Company Amid Bud Light Boycott
May 15, 2023
Updated: May 16, 2023
Anheuser-Busch revealed that it is making attempts to change its marketing structure in the midst of a backlash over after Bud Light produced a can featuring a transgender activist's face for a social media promotion.
While the firm did not make mention of the controversy and boycott, a spokesperson for the brewing giant told Fox2Now in St. Louis that it held a meeting in the city and that "we have communicated some next steps with our internal teams and wholesaler partners."
"First, we made it clear that the safety and welfare of our employees and our partners is our top priority," the company spokesperson said before adding that a new executive was tapped to head a marketing division.
"Todd Allen was appointed Vice President of Bud Light reporting directly to Benoit Garbe, U.S. Chief Marketing Officer," added the spokesperson. "Third, we made some adjustments to streamline the structure of our marketing function to reduce layers so that our most senior marketers are more closely connected to every aspect of our brands activities. These steps will help us maintain focus on the things we do best: brewing great beer for all consumers, while always making a positive impact in our communities and on our country."
For the past month and a half, Bud Light's sales have taken a nosedive after transgender influencer Dylan Mulvaney posted a video with the namesake can on social media, writing "#budlightpartner" in the caption. That led many to believe the light beer was officially partnering with Mulvaney and would launch a campaign with the activist, who is a biological male.
Several country singers and conservative pundits then suggested consumers boycott the beer, with country star Travis Tritt writing, for example, that he would be "deleting all Anheuser-Busch products from my tour hospitality rider" after the collaboration was announced. "I know many other artists who are doing the same," Tritt added.
Country star John Rich made similar statements, noting that he would be removing Bud Light from his Nashville bar. And Kid Rock posted a video of himself shooting cases of the beer as target practice.
Anheuser-Busch executive Brendan Whitworth said in an April 14 news release that the beverage firm had had no intention of sparking division or wading into a political debate. However, Whitworth made no mention of Mulvaney or the backlash.
His statement said that "I care deeply about this country, this company, our brands, and our partners. I spend much of my time traveling across America, listening to and learning from our customers, distributors, and others."
Weeks later, Anheuser-Busch InBev CEO Michel Doukeris told investors in a call that there was no partnership with Mulvaney and that only "one can" was produced with Mulvaney's face. In a subsequent Financial Times interview, Doukeris claimed that the slumping Bud Light sales were sparked by social media-driven "misinformation."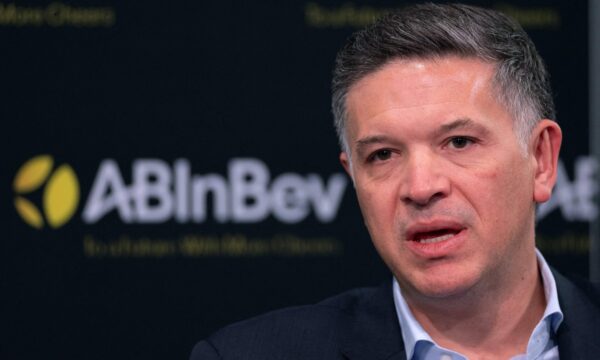 "People often talk about this topic in social media like noise," he told the Financial Times in the May interview. "You have one fact and every person puts an opinion behind the fact. And then the opinions start to be replicated fast on each and every comment. By the time that 10 or 20 people put a comment out there, the reality is no longer what the fact is, but is more [about] what the comments were."
Continuing, the CEO said that people believed it was a campaign. "It was not: it was one post. It was not an advertisement," he remarked, contradicting the #budlightpartner hashtag that Mulvaney had written.
Sales of the product dropped 26 percent year-over-year in the week ending April 22, according to Bump Williams Consulting based on Nielsen IQ data. Meanwhile, sales of rival beers Coors Light and Miller Light both saw their sales rise by about 10 percent each, according to the data.
In the midst of the backlash, two Bud Light executives—Alissa Heinerscheid and Daniel Blake—took a leave of absence, the company said. "Given the circumstances, Alissa has decided to take a leave of absence which we support. Daniel has also decided to take a leave of absence," the company said last month.
Notably, a video interview featuring Heinerscheid went viral in the wake of the Mulvaney controversy in which Heinerscheid said she wanted Bud Light to distance itself from the "fratty" image it has cultivated to become more "inclusive," a term that is increasingly used by government agencies, colleges, and corporations that critics say signals an adherence to a "woke" agenda.
Since the controversy erupted in early April, there has been speculation from industry analysts about whether the boycott would create enough pressure on Bud Light or Anheuser-Busch, the No. 1 brewing company in the world. Some public relations experts have deemed the Mulvaney partnership as catastrophic while several university researchers said that boycotts over political or social issues rarely work long-term as it takes a concerted, widespread effort to have a lasting impact.
Source: The Epoch Times